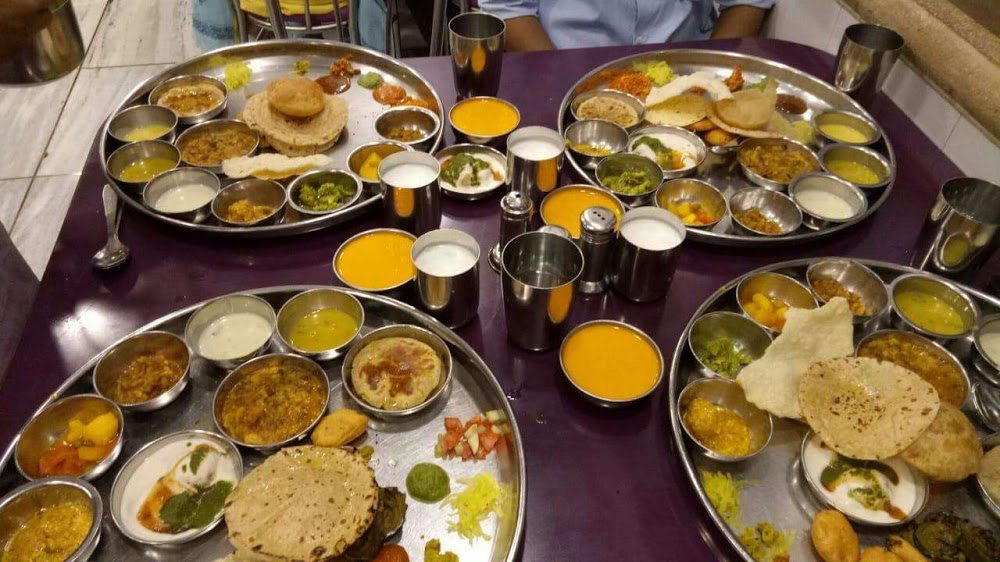 Mumbai
Shree Thaker Bhojonalay
Open Time : 11:00AM to 3:00PM, 7:00PM to 10:00PM
Entry : paid
Address : Shree Thaker Bhojanalay (Since 1945), Dadiseth Agiyari Lane, Marine Lines East, Ovalwadi, Gaiwadi, Kalbadevi, Mumbai, Maharashtra, India
More Travel Tips from
Mumbai
Why to visit
Shree Thaker Bhojonalay
Long lines, a short, packed one-way street, and a narrow staircase later, one enters this haven for vegetarian Gujarati food.There is a spacious hall for seating as well as a room inside that is spotless, but the decor is unpretentious.
At Shree Thaker Bhojanalay, the meal is not greasy, filling, or drenched in copious amounts of spice. It is prepared in the house and contains a range of flavours and textures.
Mirchi bhajias, cookie bhakri, dahi kadhi, dal baati churma, khichdi, and shrikhand are just a few of the popular specialties that the wait staff serves on opulent thalis.
FAQ on
Shree Thaker Bhojonalay
What types of cuisines does the Shree Thaker Bhojanalaya serve?

Shree Thaker Bhojanalaya offers dishes from Indian, Pan Asian, Gujarati,
Does Shree Thaker Bhojanalaya welcome children?

Yes, you are welcome to bring your children to Shree Thaker Bhojanalaya as it is a kid-friendly location.
What different forms of payment are accepted Shree Thaker Bhojanalaya?

Cash payments are accepted in Shree Thaker Bhojanalaya.
What landmark is the closest to Shree Thaker Bhojanalaya?

Shree Thaker Bhojanalaya is conveniently located because it is near to the G T High School across the street.
Special Tip
A must-try dish is the Gujrati Thali, garlic chutney, and rabdi. At Shree Thaker Bhojanalay, the Gujarati Thali costs approximately Rs 600.
By Suraj Seth