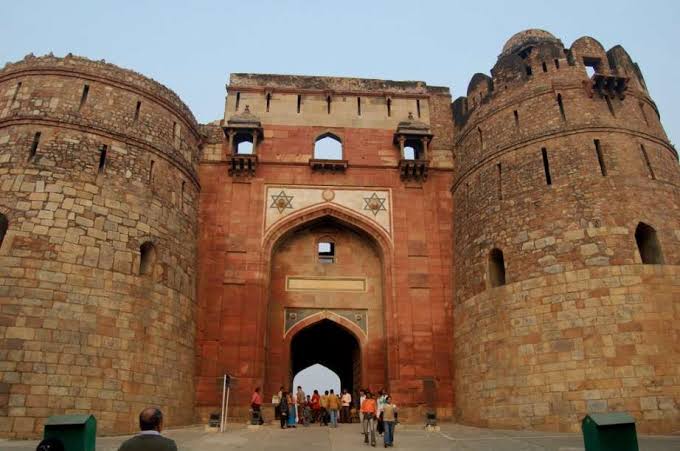 Delhi
Purana Qila
Open Time : 7am- 5pm
Entry : paid
Address : Purana Qila, Pragati Maidan, New Delhi, Delhi, India
More Travel Tips from
Delhi
Why to visit
Purana Qila
Purana Qila, also known as the Old Fort, is one of the oldest forts in Delhi and stands stoically in the serene area of Indraprastha. It is a masterpiece of the old glory and fine architecture of the bygone Mughal Empire.
Purana Qila has apparently been inhabited for the past 2,500 years, and materials from the pre-Mauryan era have been found during excavations at the site.
One of the Myth of Purana Qila:
Numerous mediaeval stories and legends are associated with the monument. The most intriguing of these claims contends that the mediaeval Hindu city of Indraprastha was founded here by the Pandavas, and the fort served as the illustrious meeting hall referenced in the Mahabharata.
Architecture of the Purana Qila:
The fort boasts of Mughal construction in the mediaeval style, with a fortress that rises up to 18 metres and is adorned with blue stonework.
Three entrances—Bara Darwaza Humayun's Gate, Talaqi Gate, and the cascade itself—are constructed on a piece of land that is slightly elevated.
The two-story gates are decorated with white marbles and blue stone inlay work, and they are flanked by enormous semicircular rampart towers.
Things to do at Purana Qila:
Beginning in 2011, the Purana Qila Light and Sound Show has grown in popularity as a result of its stunning and thoughtful beauty.
Purana Qila is constructed around a big water storage facility that serves as a lake. On this island, a boating adventure just got going.
The Archaeological Museum was constructed on the outskirts of the Qila to provide tourists a comprehensive introduction to the stories and traditions surrounding the Qila.
Light and Sound Show at Purana Qila:
Ishq-e-Dilli is the name of the programme, which compiles a comprehensive picture of the city over the ages.
Every day, the show is presented in both Hindi and English. The Hindi programme runs from 7:00 PM to 8:00 PM, while the English version runs from 8:30 PM to 9:00 PM.
The cost of the Light and Sound Show is INR 100 for adults and INR 50 for kids (5 to 12 years old).
Entrance Fee and Timings at Purana Qila:
For Indian citizens, entry to Purana Qila costs Rs. 20, but it costs Rs. 200 for foreign visitors. The cost of a camcorder is 25 rupees.
Every day of the week, Purana Qila is open from 7:00 am to 5:00 pm.
FAQ on
Purana Qila
What attractions are near Purana Qila?

Attractions near Purana Qila: (0.24 km) Sher Mandal (0.43 km) National Science Centre (0.46 km) Pragati Maidan
What restaurants are near Purana Qila?

Restaurants near Purana Qila: (0.47 km) Cafe Lota (0.82 km) Masala House (0.48 km) Haldiram
What hotels are near Purana Qila?

Hotels near Purana Qila: (0.56 km) Devna (0.53 km) La Sagrita (0.59 km) Ahuja Residency Sunder Nagar
How to reach Purana Qila?

Pragati Maidan Metro, which is located on the blue line, is the metro station closest to Purana Qila. The fort is around 2 kilometres from the metro; you can get there via battery-operated rickshaw or by hiring a local. For a journey that is more comfortable, you can alternatively reserve a taxi. As an alternative, you can take one of the buses, which will be more reasonably priced.
When is the best time to visit Purana Qila?

Purana Qila is best visited around 3:00 PM, ideally in the winter (to keep away from the heat of Delhi). You will have enough of time to take a stroll, relax on the lawns, and enjoy some boating before the amazing sound and light show after sunset and before you return home.
Special Tip
Bring insect repellent with you, especially if you intend to attend the Light and Sound Show. Wear comfortable, light-colored clothing because Delhi may get very hot. Since you will be moving around a lot in this area, we suggest against wearing heels. Please avoid leaving behind litter. Use the trash cans to dispose of trash.
By Aryan Prasad
Disclaimer: Please note that the content of this blog/article including links, texts, images, and graphics is only meant for informational purposes. We do not intend to infringe any copyright policy or do not possess any third-party material. If you have issues related to any of our content or images, kindly drop your message at info@connectingtraveller.com