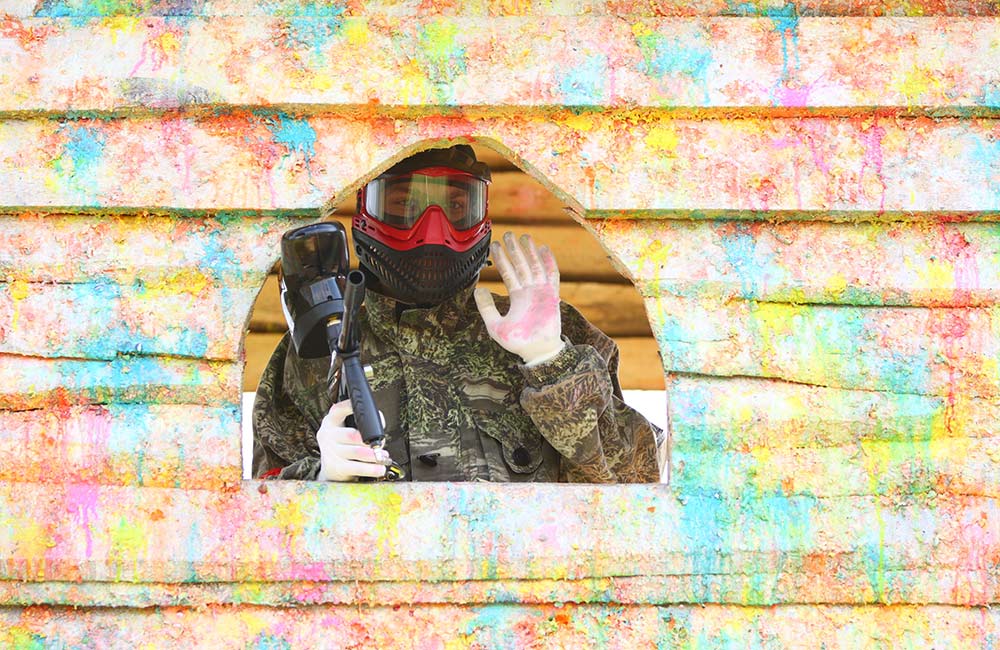 Delhi
PAINTBALL ZONE
Open Time : 10AM-10PM
Entry : paid
Address : Shootout Zone, Pocket A, Dr Ambedkar Colony, Chhatarpur, New Delhi, Delhi, India
More Travel Tips from
Delhi
Why to visit
PAINTBALL ZONE
In New Delhi, a well-known adventure sports facility called Shootout Zone provides a top-notch paintball experience.
The object of paintball, a team sport that replicates military battle in a safe and enjoyable way, is to defeat the other team. There are 18 options in Shootout Zone, all of which have different rules and objectives, providing you a wide range of options.
About the paintball activity at Shootout Zone:
Warm up before the fight by being there on time, or preferably a bit early than your scheduled time.
Choose from a number of alternatives, including hostage rescue, village guards, and capture the flag (paintball style).
Prepare your team and yourself for the exciting, entertaining, and competitive sport of paintball by donning your appropriate gear.
Create tactics and methods with your squad to defeat your adversary in friendly battle for the top rank.
At the start of the activity, each player will receive 50 or 100 paintballs, and each round has a time limit until a few teams win the round or the paintballs are used up.
Release your aggressive side and engage in battle for a crushing victory.
Entrance fee and timings at Shootout Zone:
10:00 am–9:45 pm (closed on public holidays)
INR 500 for 60 paintballs
INR 800 for 100 paintballs
FAQ on
PAINTBALL ZONE
Are children permitted to play paintball in Delhi?

Yes, children are welcome to play paintball in Delhi. Any child between the ages of 6 and 11 is welcome, however they must enter the field with a parent or legal guardian. Any minors between the ages of 12 and 18 are permitted outside the field with one parent or a guardian.
What kinds of paintball challenges are present at the location?

The location offers more than 18 different types of paintball games that can be played. Capturing the flag, manhunts, hostage rescues, death balls, jailbreaks, village guardians, etc. are some of the most well-liked challenges.
How many players are needed to make a paintball reservation in Delhi?

This Delhi paintball game must be reserved for a minimum of two players. All participants are recommended to wear comfortable, loose-fitting clothing that they don't mind getting soiled. You should wear closed-toe shoes rather than sandals or flip-flops for your own safety and security.
What are the time slot for paintball in Delhi?

Paintball is available in Delhi between the hours of 10:00 AM and 10:00 PM, and it lasts for an hour, or until the specified amount of paintball has been played. A large field with built-in barriers, bunkers, and natural cover from the foliage and tree cover will be available for you to play on.
Special Tip
It is recommended to wear comfortable, loose-fitting clothing that you don't mind getting soiled. Additionally, for safety reasons, we advise against wearing sandals or flip-flops and in favour of closed-toe footwear. Additionally, it is suggested against bringing any paintballs with you.
By Aryan Prasad
Disclaimer: Please note that the content of this blog/article including links, texts, images, and graphics is only meant for informational purposes. We do not intend to infringe any copyright policy or do not possess any third-party material. If you have issues related to any of our content or images, kindly drop your message at info@connectingtraveller.com