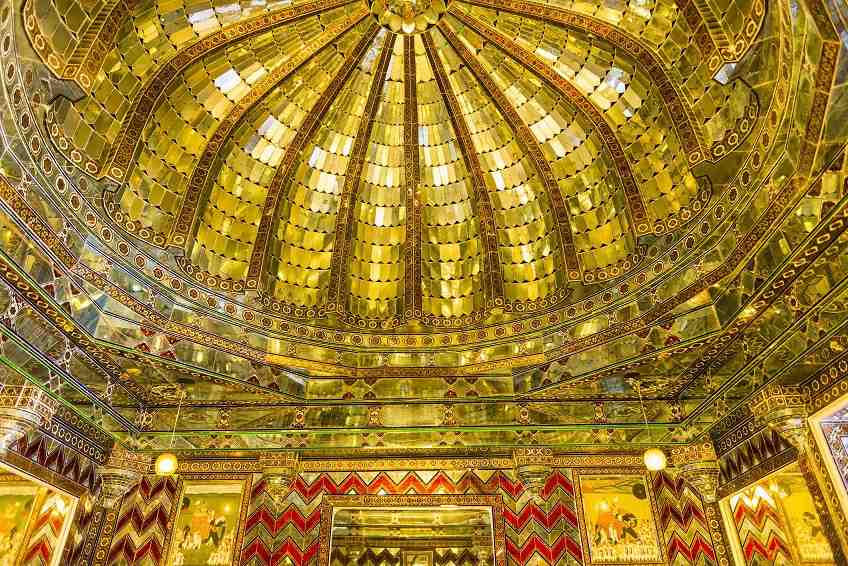 Udaipur
City Palace
Open Time : 9:30 AM – 5:30 PM
Entry : paid
Address : City Palace, Old City, Udaipur, Rajasthan, India
Website : https://citypalacemuseum.org/
More Travel Tips from
Udaipur
Why to visit
City Palace
The City Palace has a huge collection of medieval and European-era antiques. The palace offers a breathtaking perspective of Lake Pichola, one of Udaipur's biggest and oldest lakes.
Why is City Palace popular?
A number of movies, including "Guide" and "Octopussy," have been filmed here because of this attraction's regal splendor. The City Palace of Udaipur is a beautiful journey through history. It is a delicate amalgam of architectural brilliance and rich heritage.
Things to do and see at City Palace:
Boat ride: When you approach Udaipur's City Palace, you can take a boat ride on Lake Pichola.
Amar Vilas: The highest feature of the City Palace, though it is located on the ground, is this well-maintained and organized garden, according to Amar Vilas.
Badi Mahal: You should definitely not miss the Badi Mahal, which is a section of the main palace that is decorated with murals on the walls, a swimming pool, and gorgeous interiors.
Laxmi Vilas Chowk: Tourists can easily notice this area, which is devoted to Mewar paintings and artists.
Sheesh Mahal: A mainstay of the Queen's Palace was constructed in the 18th century. Here, mirrors are used to construct the entire area of the space.
Architectural Style: The palace's walls and structure are composed of marble and granite, as is evident from their construction. It is a beautiful example of Rajput, European, and medieval architecture all combined.
Entrance Fee: Adult (INR 300), Child (INR 100), and Student (INR 100)
Time Required: 2-3 Hours
Best Time to Visit: October to March
Nearby Attractions:
Jagdish Temple (100 m)
Bagore ki Haveli (400 m)
Doodh Talai (200 m)
Gangaur Ghat (400 m)
Jag Mandir Palace (700 m)
City Palace Museum:
The city palace museum is part of the palace which displays a monkey holding a lamp, a Maharaja flaunting his mustaches, and various other objects and artifacts.
Requirement of Tour Guides:
Hindi-speaking guide (INR 300)
Museum guides (INR 200)
FAQ on
City Palace
How to reach the City Palace?

The City Palace is a popular tourist destination that is well served by an extensive network of unmetered taxis, auto rickshaws, tongas, and city bus service. Ferry rides from City Palace to Jagmandir are also available for INR 400 per person.
When is the ideal time to visit the City Palace?

The winter season, from October to March, is considered the best time to visit the City Palace because the weather is mild.
What are the attractions to visit near City Palace?

Jagdish Temple (100 m), Bagore ki Haveli (400 m) and Doodh Talai (200 m)are the attractions to visit near City Palace
Where to stay near the City Palace?

Hotel Ishwar Palace, Hotel Udaigarh, Hotel Chandra Prakash, Hotel Raj Palace, and Fateh Prakash Palace all offer comfortable accommodations. You can also treat yourself to a luxurious hotel stay at the Oberoi Udaivilas or the Taj Lake Palace.
What is the closing time of the City Palace?

Every day of the week is open for visitors to the City Palace Museum in Udaipur. The museum is open daily from 9:30 am until 5:30 pm. During the day of the March Holi celebration, the museum is closed.
What makes the City Palace unique in comparison to other palace?

City Palace in Udaipur is India's second largest palace, after Mysore Palace, and the largest in Rajasthan and North India. In one of the rooms, you'll also find a one-of-a-kind kerosene-powered fan.
Special Tip
Photography is permitted in designated areas. The photography fee is INR 200, and the videography fee is INR 500. Tickets are available in the City Palace website.
By Rebecca Lal