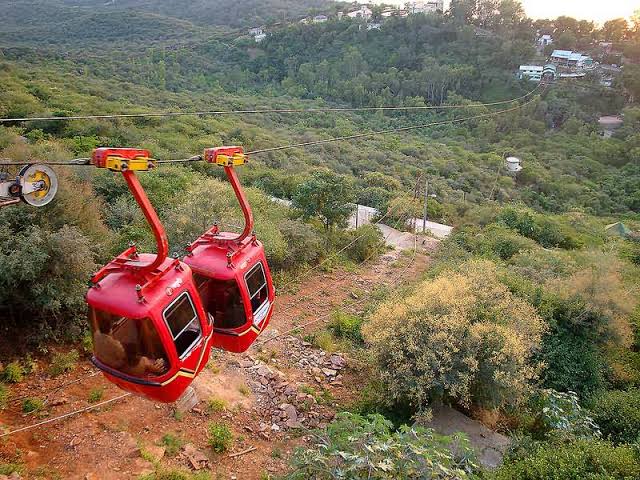 More Travel Tips from
Udaipur
Why to visit
Cable Car in Mansapurna Karni
The Mansapurna Karni Mata Ropeway is a well-liked cable car ride that runs between Deendayal Upadhyay Park in Udaipur and Sri Karni Mata Temple at Machhala Hill Top. Although it takes more than 15 minutes and is extremely hard and exhausting, there is now a stairway that leads up to the temple and can be accessed from Maniklal Verma Park.
On the other side, the ropeway not only gives a quick and pleasant way to get to the temple but also offers a breathtaking perspective of the surroundings.
Things to see around from the ropeway:
One must climb stairs after arriving at the cable car stop location to get to Karni Mata's Temple. A white stone statue of the goddess Karni Mata is located inside the temple.
A shrine to Pahad Wale Baba, also known as Malang Sarkar, can be seen near the Cannon Point, along with the Fort wall and an old warehouse with a gate whose door panel was spiked.
The nicest views of Udaipur, including Pichola Lake, Fateh Sagar Lake, City Palace Complex, and Sajjangarh Fort, can be seen from the cable car.
A viewpoint is another location where people go to watch the sunset over the city. Moreover, at night, lighting is done to the different palaces that, give a splendid view.
Entry Fee for Ropeway:
Indian Citizen: INR 50
Children: INR 43 (height below 110 cm)
Foreign Adults: INR 300
Children: INR 150 (height below 110 cm)
Timings: 9:00 AM - 9:00 PM
FAQ on
Cable Car in Mansapurna Karni
When is the best time to visit Mansapurna Karni?

It may be visited best in the evenings and is situated in the main tourist area.
How to reach the Mansapurna Karni?

Just three kilometres separate the Deendayal Upadhyay Park in Doodh Talai from the Udaipur City Train Station, where the cable car ride begins. The majority of the other attractions, including the City Palace and Lake Pichola, are all located directly in the city's centre where it is located.
What are the time duration of the ropeway to reach Mansapurna Karni?

The time duration of the ropeway to reach Mansapurna Karni is hardly 10 minutes.
What are the places to stay near Mansapurna Karni? What are the places to stay near Mansapurna Karni?

Nearby Hotels include: Taj Lake Palace (1.15 Kms) HRH Shiv Niwas Palace Hotel (1.18 Kms) Taj Fateh Prakash Palace Hotel (1.19 Kms)
Special Tip
You might even be fortunate enough to see a stunning sunset from the cable cars if you arrive in the evening between 6 and 7:30 PM. At the sunset point atop Machhala Hill, delectable cuisine is served to your taste at very reasonable prices.
By Abhilasha Prasad