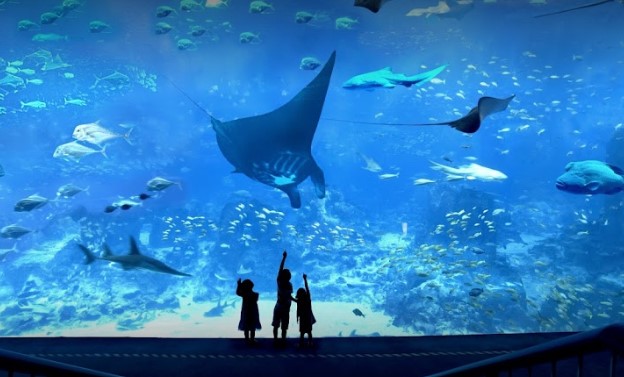 More Travel Tips from
Singapore
Why to visit
S. E. A Aquarium
SEA Aquarium is a gigantic aquarium that houses over 1,000 kinds of marine life, including hammerhead sharks, bottlenose dolphins, and rays, and is considered one of humanity's most magnificent creations in Singapore. 1,00,000 aquatic animals are on show for visitors in 49 habitats, making this aquarium one of the best locations to visit in Singapore for marine life enthusiasts. In addition, the location offers a variety of interesting, immersive experiences such as diving and sea walking, allowing visitors to have an up-close encounter with the underwater environment.
If you're looking for something more, go to Sharks Sea Habitat, where you can walk for hours. Sharks like the scalloped hammerhead and the aggressive silver tip are frequent in this area. An Open Ocean Habitat is also located in the heart of the S.E.A. Aquarium. It looks like a massive aquarium and makes you feel like you're standing on a vast ocean floor. You may just sit here and observe the sweeping ocean views through the glass panels for hours. The in-charge here ensures that all of the panels remain immaculate in order to amuse their visitors.
Special Tip
You will not be permitted to bring any outside food or beverages with you. Additionally, you are not permitted to have anything when standing near any of the aquarium exhibits. Inside the aquarium, you are free to take as many photos as you wish. Make sure you don't use the flashlight on your camera, though.
By Atharva Yeshwardhan
Disclaimer: Please note that the content of this blog/article including links, texts, images, and graphics is only meant for informational purposes. We do not intend to infringe any copyright policy or do not possess any third-party material. If you have issues related to any of our content or images, kindly drop your message at info@connectingtraveller.com