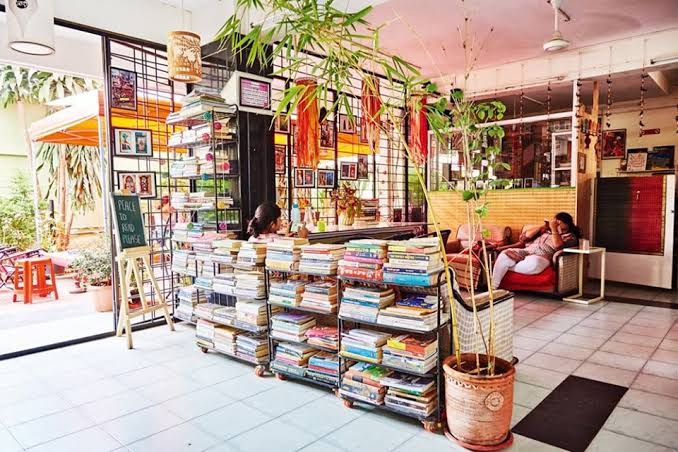 Pune
Waari Book Cafe
Open Time : 9 am to 5 am
Entry : free
Address : Waari Book Cafe, Choice Institute, near Choice Health Club, Jhala Co-Op Housing Society, Kothrud, Pune, Maharashtra, India
Website : https://www.waaribookcafe.com/
More Travel Tips from
Pune
Why to visit
Waari Book Cafe
This is a great place to grab a cup of coffee and relax while reading your favourite book. It's one of Pune's top cafes, and it's a popular hangout for bibliophiles looking to meet and mingle with other bookworms in the city.
Additionally, the menu is brimming with delectable dishes to quench your hunger, like Maggi, burgers, sandwiches, and more to keep you going during your reading sessions. Waari has over 3,000 books, spanning genres, authors, and tastes, including works by Enid Blyton, Amitav Ghosh, Robin Cook, and Margaret Mitchell.
So grab your favourite book, curl up on a comfy couch, and unwind like you've never unwinded before! Waari Cafe's curators enjoy experimenting with their food.
FAQ on
Waari Book Cafe
Does Waari Book Cafe offer delivery services to homes?

You can use Waari Book Cafe home delivery service, yes. Check to see if the service is free or paid, though.
Is there free Wi-Fi access available at Waari Book Cafe?

Yes, you can use the Waari Book Cafe's free Wi-Fi while dining there.
What different forms of payment are accepted Waari Book Cafe?

Cash, debit card, credit card and netbanking types of payments are accepted in Waari Book Cafe.
What landmark is the closest to Waari Book Cafe?

Given that the establishment located around Karishma Chowk, Waari Book Cafe is very easy to find.
What are the cuisines served at Waari Book Cafe?

Fast Food, Burger, Sandwich, Rolls, Italian, Desserts, Beverages are the cuisines served at Waari Book Cafe.
Special Tip
A 50 INR entrance coupon for food and beverages is available. We advise you to try their 120 INR chocolate Oreo shake. Additionally, you can get a laptop and work at Waari.
By Mehrosh Shamim