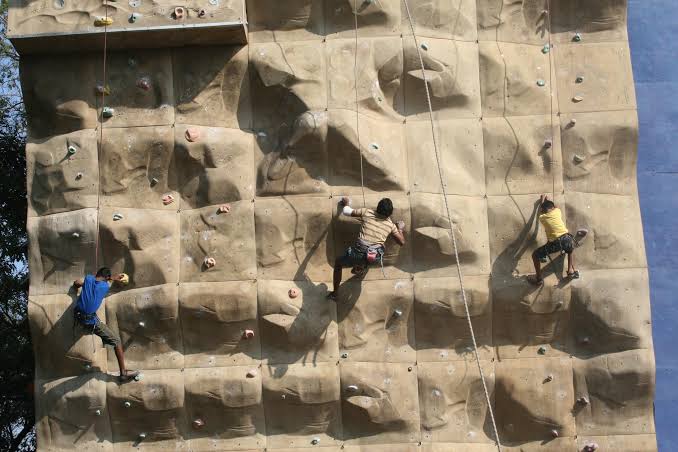 Pune
Artificial Wall Climbing
Open Time : 7 am to 11 am and 4 pm to 8.30 pm
Entry : paid
Address : Rock Climbing, Magarpatta, Hadapsar, Pune, Maharashtra, India
More Travel Tips from
Pune
Why to visit
Artificial Wall Climbing
Rock climbing is a fantastic hobby to try either alone or with friends because it develops physical prowess, social skills, and teamwork. The abundance of hand and footholds, the vibrant graffiti, and the vibrant colours make this a really attractive experience for anyone looking to explore their more daring side.
There are many rock climbing training facilities that offer appropriate teaching for beginner climbers. They feature a bouldering wall made of fake rocks inside that is 50 feet high on one side, and a rock climbing wall that is 50 feet high outside on the other.
If you are unable to arrange an out-of-town trip, this is a great way to work up a sweat. It's a good activity for a team outing or a group of daring friends. It is one of the best adventurous activities in Pune, so you should give it a try.
Tickets and Timings Artificial Rock Climbing At Raje Shivaji Wall Climbing :
You can visit it for just INR 100 per session or INR 1200 for a monthly pass. It is open from 9:00 am to 5:00 pm every day, excluding major holidays. The price of a yearly pass is INR 12,000 (about). For details about climbing and bouldering workshops, check out their Facebook page.
FAQ on
Artificial Wall Climbing
What advantages does climbing walls have?

The mental and physical activity of climbing helps you stay focused, clears your thoughts of outside concerns, and boosts your confidence and self-esteem, which reduces the symptoms of various mental health issues.
How high is a bouldering wall?

The typical height of a bouldering wall is 15 feet (4.5 metres). In order to accommodate 10 routes at once, they typically have a width of 98 feet (30 metres). Additionally, each route is at least 10 feet (3 metres) wide.
How important is weight when rock climbing?

Particularly in terms of endurance, it appears to virtually halve the climber's performance. Weight is crucial. Whether you like it or not, your body's composition affects how well you climb.
How many different styles of climbing walls are there?

The majority of available materials and designs belong into one of four categories: panelized, seamless, rock realistic, or modular.
Special Tip
Be wary of climbers below you when ascending high on a cliff or peak. Don't drop rocks or gear, and be careful not to dislodge anything when ascending in slick terrain.
By Mehrosh Shamim
Disclaimer: Please note that the content of this blog/article including links, texts, images, and graphics is only meant for informational purposes. We do not intend to infringe any copyright policy or do not possess any third-party material. If you have issues related to any of our content or images, kindly drop your message at info@connectingtraveller.com