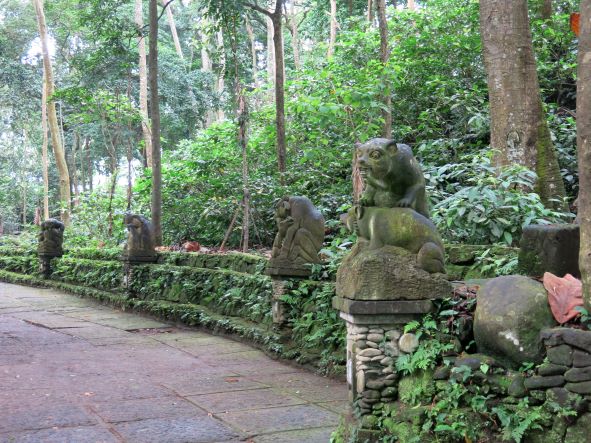 Bali
Sacred Monkey Forest Sanctuary
Open Time : 9am to 5pm
Entry : paid
Address : Sacred Monkey Forest Sanctuary, Jalan Monkey Forest, Ubud, Gianyar Regency, Bali, Indonesia
Website : https://monkeyforestubud.com/
More Travel Tips from
Bali
Why to visit
Sacred Monkey Forest Sanctuary
The Sacred Monkey Forest Sanctuary in Ubud, Bali, is a natural habitat for around 600 Balinese long-tailed monkeys and serves as a tourist destination due to its religious and wildlife value. The 115 different tree species, combined with the numerous monkeys begging for handouts from tourists, make this a wonderful place for wildlife lovers.
The Sacred Monkey Forest Sanctuary, as the name suggests, is a virgin forest in Bali that spans 12.5 hectares and is home to a multitude of friendly monkeys. This sanctuary, also known as Ubud Monkey Forest, is owned by the Pandangetal community and run by Mandala Suci Wenara Wana Management. Every year, a big number of people visit this sanctuary to see the amazing spectacle of numerous monkeys climbing from tree to tree and to interact with them firsthand.
Three ancient Hindu temples, mostly built during the mid 14th century, are situated in the Sacred Monkey Forest Sanctuary, which are built with finesse and are quite a sight to see. The grand architecture of the temples in such that it will make you awestruck. These temples are an integral part of the local community that preserve the rich Balinese art tradition and the interesting Balinese mythologies. These temples are a must visit while visiting Sacred Monkey Forest Sanctuary.
Special Tip
The best time to visit Sacred Monkey Forest Sanctuary is between the months of June and August. During this time of the year the weather is pleasant and the whole place is dry making it easier to roam around and explore the sanctuary to the fullest. Make sure you are dressed modestly and comfortably as this sanctuary is sacred with a number of temples inside it.
By Yashica Singh
Disclaimer: Please note that the content of this blog/article including links, texts, images, and graphics is only meant for informational purposes. We do not intend to infringe any copyright policy or do not possess any third-party material. If you have issues related to any of our content or images, kindly drop your message at info@connectingtraveller.com