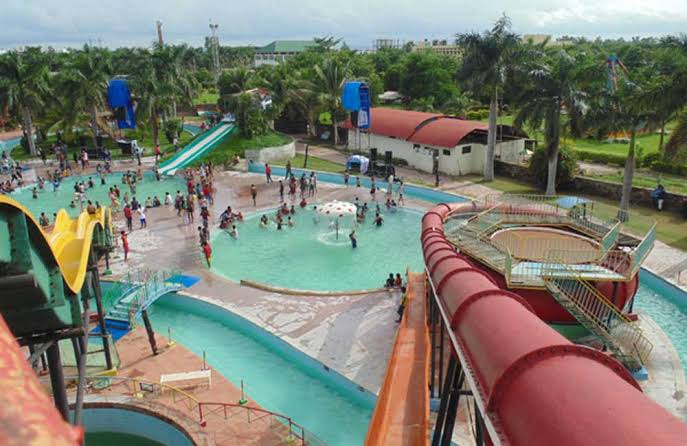 Bhopal
Kanha Fun City
Open Time : 10:00 am to 7:00 pm
Entry : paid
Address : Kanha Fun City, Hoshangabad Road, Indus Towne, Ratanpur Sadak, Bhopal, Madhya Pradesh, India
Website : https://kanhafuncity.com/
More Travel Tips from
Bhopal
Why to visit
Kanha Fun City
About 14 kilometres from Bhopal lies Kanha Fun City, which is located on NH 12 between that city and Hoshangabad. The only amusement/water park close to Bhopal is this one. This location is frequently mentioned in lists of popular tourist attractions in Bhopal and is ideal for a weekend getaway with the family. This location is ideal if you want to splash around in the water.
Kanha Fun City also offers two large lawns with a combined capacity of 2000–3000 people for weddings and celebrations. The park's two sides each provide spectacular thrills and nonstop entertainment. The park is surrounded by lush vegetation on a lovely green terrain. Kanha Fun City also offers lodging options.
Some of the popular attractions inside the dry park :
1. Swing Chair
This thrilling rollercoaster offers thrills, chills, and delights to crowds in Bhopal's Kanha Excitement City who are yearning for more fun. You quickly swing up to a height of 18 feet. It begins at 0 degrees and rises to a maximum of 85 degrees. This unique experience will undoubtedly be enjoyed by individuals of all ages.
2. Flying Dutchman
In addition to Swing Chair, you should experience the terrifying Flying Dutchman. Flying up and down in an aeroplane is fun for four people.
3. Break Dance
Another fantastic ride is the break dance, where you may scream your head off while being repeatedly triple-twisted and swung within a swing at great speed.
4. Friz Bee
This rollercoaster holds 48 people at once and rocks and swings them back and forth at a 60-degree angle simultaneously.
5. Jumping Frog
As the name implies, this train that resembles a frog leaps a little bit as it travels.
6. Bungy Jump
Your desire for more excitement and fun is put to the test on this ride. Bungy jumping entails jumping up and down from a height of 30 feet. As a mattress shakes beneath you, there are adequate safety precautions in place.
Amazing rides at the water park include:
1. Wave Pool
The pool's 200-foot length and 40-foot breadth give you the impression that you are in a sea during high tide. It is the ideal location for escaping the scorching heat of the sun.
2. Tube Slide
Slide down a 330-foot-long, water-filled tube slide. In the city, a completely unique and wonderful experience.
3. Cyclone
With a 140-foot length, it is a slide that resembles a tunnel. the connecting bowl with a 4'-deep pool and a hole in the middle for patrons to fall into. The bowl has a 25' radius.
4. Body Slide
From the 160' long bay, descend on your back. Most frequently, parents and children choose to use this specific Water Park option together.
5. Turning Point
If you're looking for something more exhilarating, try this slide, which slides you down quickly before lifting you up and turning you around so you can quickly land back in the water.
6. Family Slide
Your entire family of up to six can slide down together here. The slide measures 30' in length.
FAQ on
Kanha Fun City
What restaurants are near Kanha Fun City?

Restaurants near Kanha Fun City: (0.08 km) Jackpot (0.38 km) McDonald's (0.38 km) Subway
What hotels are near Kanha Fun City?

Hotels near Kanha Fun City: (0.74 km) The Fern Residency Bhopal (0.40 km) Treebo Trend Hotel Krishna Regency (0.46 km) Hotel Midland
Special Tip
For both dry and water parks, there is an entrance fee that is roughly Rs 300 for a single adult and children (excluding newborns). The entrance price is also waived for seniors over 60. Between 10 am and 6 pm, the park is open continuously.
By Vaani Singhania
Disclaimer: Please note that the content of this blog/article including links, texts, images, and graphics is only meant for informational purposes. We do not intend to infringe any copyright policy or do not possess any third-party material. If you have issues related to any of our content or images, kindly drop your message at info@connectingtraveller.com