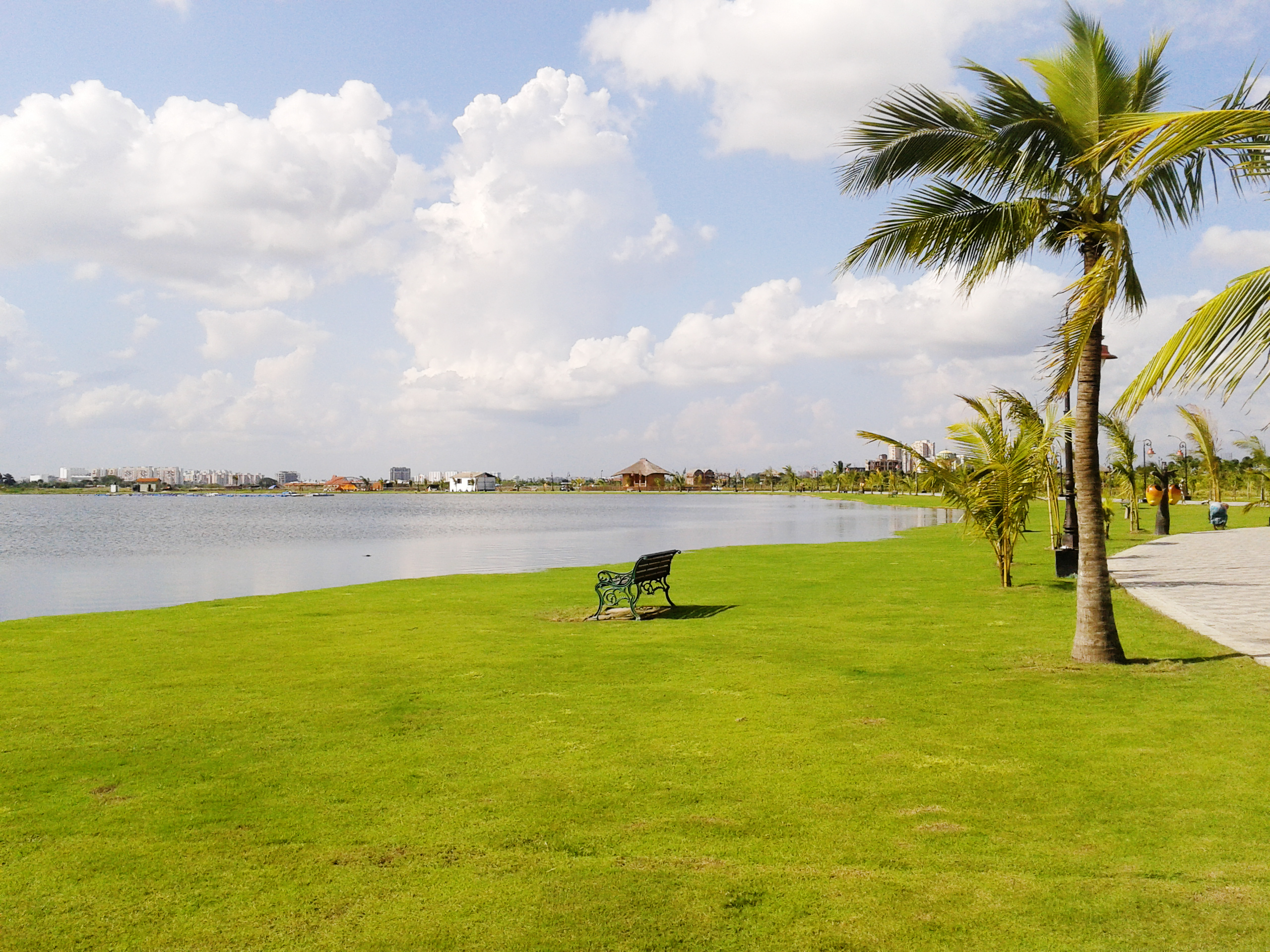 Kolkata
Eco Park
Open Time : 2:30 pm to 8:30 pm
Entry : paid
Address : Eco Park, Biswa Bangla Sarani, Action Area II, Newtown, Calcutta, West Bengal, India
Website : https://ecoparknewtown.com/
More Travel Tips from
Kolkata
Why to visit
Eco Park
A large urban park created to encourage ecotourism in the city is called Eco-Tourism Park in Kolkata. Over 475 acres of land are taken up by this park, which is India's largest urban park. The water body that surrounds the park and creates an island in the middle boosts the location's splendour tenfold.
It is the ideal vacation to unwind because it includes three major parts: natural zones, gardens, and recreational zones. They also provide meeting rooms and cottages that may be booked for private or professional use.
Attraction In The Park:
Food Court: There are roughly 20 food stalls serving a range of foods in the Eco Park food court.
Biswa Bangla Haat: This market was created specifically to display Bengal's indigenous handicrafts.
Seven Wonders of the World: Throughout the entire park, miniatures of the Seven Wonders of the World may be found.
The magnificently paved promenade that wraps around the park's main body of water is bordered by tall coconut trees.
Things To Do In Eco Park:
Gaming Zone (INR 50 per person)
Baby cycling (INR 70 per person for 30 mins)
Ice Skating on weekdays (INR 170 per person for 30 mins and INR 200 per person for 45 mins)
Duo cycling (INR 150 per pair for 20 mins)
Solo cycling (INR 150 per person for 30 mins)
Toy Train Ride (INR 150 per person for a single round)
Bird Watching (INR 10 per person)
Kayaking, paddle boating, rowing, and speed boating, (ticket price varies from INR 50 to 300 depending on the ride)
Entrance Timings:
March to October​

Tuesday to Saturday: 2:30 pm to 8:30 pm
Sundays and national holidays: 12:00 pm to 8:30 pm

November to February

Tuesday to Saturday: 12:00 pm to 7:00 pm
Sundays and national holidays: 11:00 am to 7:30 pm

Mondays are the only days the park is closed.
Entry Fee At Eco Park: INR 30 per person for everyone, except for those under the age of 3. For kids under 3, entry is free.
FAQ on
Eco Park
Is food permitted in Kolkata's Eco Park?

Since it is not allowed to bring in food or drinks from outside, there are several kiosks throughout the park where you may buy snacks and water.
Which day does Eco Park close?

From Tuesday to Sunday, the Eco Park closes at 7.30 p.m. Eco Park's weekly off day is Monday, so every Monday it is closed for repair.
Which Eco Park gate should I enter through?

There are 4 ticket counters that enable admission to the eco park. It is preferable to choose which gate you will enter through. The ticket window at gate number two is a nice one.
What is the popular attraction to visiit near Eco Park?

In close proximity to Eco Tourism Park, Science City can also be visited.
How to reach Eco Park ?

The distance between the city centre and Eco Tourism Park is 18 kilometres. The best means of transportation in Kolkata to get to the park are taxis or private cars through VIP Road, Thakurnagar Panchpota Road, and NH12. The attraction is also accessible via Canal W Road. Rama Ram Mohan Sarani Road must be crossed before turning left into Maniktala Main Road in order to take the VIP Road/Thakurnagar Panchpota Road route. To get to Street number 706 - Ghuni Road - Major Arterial Road (South-East), Action Area II, Newtown, take the following route: CIT Road - Thakurnagar Panchpota Road/ VIP road - Rajarhat Road - NH12.
What hotels are near Eco Tourism Park?

Hotels near Eco Tourism Park: (0.00 km) OYO 3634 Apartment RK Hospitality (0.03 km) Estillo Guest House (0.04 km) Millenium Palace (0.04 km) OYO 10919 Hotel Kolkata
Special Tip
The months of October to February, or the autumn and winter seasons, are the best times to visit Kolkata's Eco Tourism Park. Additionally, you have the choice to book an Eco Park Kolkata ticket online in advance before your trip, bearing in mind the security considerations.
By TANISHA JAISWAL