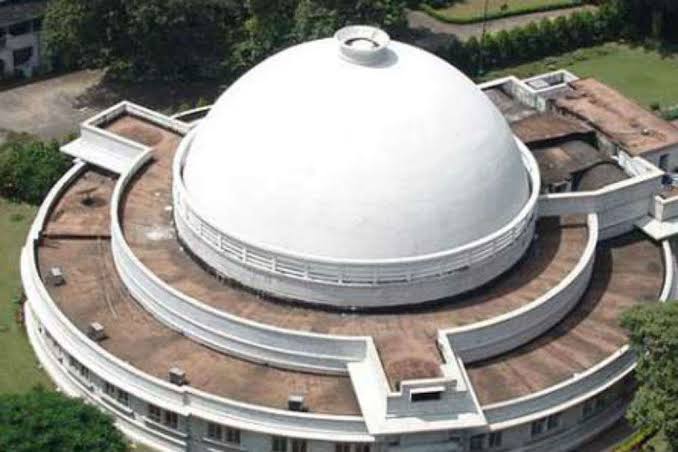 Kolkata
Birla Planetarium Kolkata
Open Time : 12:30am–6:30pm
Entry : paid
Address : Birla Planetarium, Paul's Cathedral, Cathedral Road, Adjacent To St, Maidan, Kolkata, West Bengal, India
Website : http://www.mpbirlaplanetarium.org/
More Travel Tips from
Kolkata
Why to visit
Birla Planetarium Kolkata
The Birla Planetarium is the largest planetarium in Asia and the second largest in the world, and it is located on the famed Chowringhee Road, close to the Victoria Memorial and St. Paul's Cathedral.
Birla Planetarium is a spectacular structure built by Pandit Jawaharlal Nehru on July 2, 1963. It is one of three planetariums in the country. The Birla Planetarium, also known as Taramandal.
It hosts a variety of performances and activities in a variety of languages, including Hindi, English, Bengali, and other regional languages. Birla Planetarium, in addition to being a planetarium, it features an electronics laboratory and an astronomy gallery with a collection.
People come from all over the world, especially astronomy fans, to see the incredible spectacles put on here. A visit here comprises a tour of the planets, where amazing facts about them and other fascinating celestial bodies are addressed.
While the show is going on, the silence is deafening, which is a testimonial to the mesmerising power of the shows here. In the hallway, there are pictures of famous astronauts and other celestial bodies on exhibit. After seeing the show, one can take a look at them.
FAQ on
Birla Planetarium Kolkata
What restaurants are near Birla Planetarium?

Restaurants near Birla Planetarium: (0.10 km) One Way Cafe (0.21 km) Maharaja Bar & Restaurant (0.21 km) Haldiram Pratik
What attractions are near Birla Planetarium?

Attractions near Birla Planetarium: (0.17 km) St. Paul's Cathedral (0.23 km) Victoria Memorial Hall (0.17 km) Academy of Fine Arts
How to reach Birla Planetarium?

The planetarium is conveniently reachable by cab along VIP road and is situated around 18 kilometres from the airport. It is around 5 kilometres from the train station and is easily accessible by taxi via Acharya Jagdish Chandra Bose Marg.
When does M. P Birla Planetarium closes ?

On Sundays and major holidays, there are additional Hindi and Bengali programmes at 10:30 and 11:30 a.m., respectively. The first Thursday of every month is a closed day at the planetarium.
What hotels are near Birla Planetarium?

Hotels near Birla Planetarium: (0.34 km) Kenilworth Hotel, Kolkata (0.50 km) The Astor Hotel Kolkata (0.35 km) The Golden Pak Hotel
Special Tip
Visitors can enjoy a variety of entertaining and educational shows, which run at the following times: - 1:30 p.m. & 6:30 p.m. in English 12:30 p.m., 2:30 p.m., 4:30 p.m. 3:30 p.m. and 5:30 p.m. in Bengali. You can check the rates again because they are always changing.
By TANISHA JAISWAL