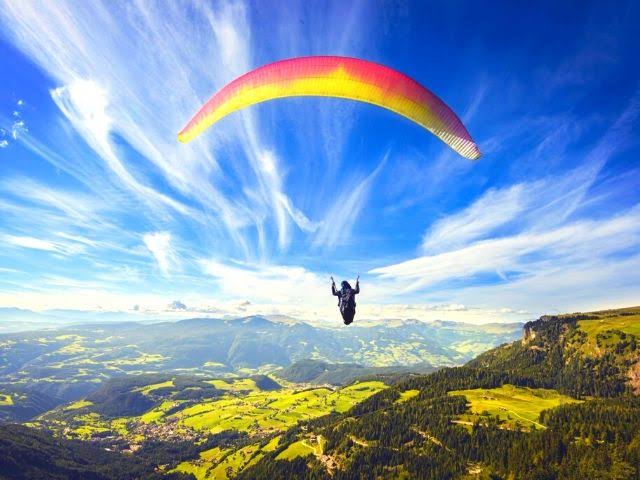 Dharamshala
Paragliding in Dharamshala
Open Time : 08:00 am to 4:00 pm
Entry : paid
Address : Paragliding in Dharamshala- Indrunag Adventures, Khanyara Road, Upmuhal, Dharamshala, Himachal Pradesh, India
More Travel Tips from
Dharamshala
Why to visit
Paragliding in Dharamshala
Dharamshala offers a thrilling adventure activity that attracts adrenaline junkies from far and wide - paragliding. With its favorable wind conditions and breathtaking landscapes, Dharamshala has become a popular destination for paragliding enthusiasts.
Why is Paragliding popular in Dharamshala?
Paragliding in Dharamshala allows participants to experience the thrill of flying amidst the scenic beauty of the Dhauladhar range.
The panoramic views of the snow-capped mountains, lush green valleys, and pristine lakes make it a truly unforgettable experience. The serene atmosphere and ideal wind patterns contribute to making Dharamshala a preferred destination for paragliding.
Do's and Don'ts in Paragliding:
Do's:
Follow the instructions of the trained pilots and listen carefully to the pre-flight briefing.
Maintain proper body posture and weight distribution during the flight.
Enjoy the experience and savour the magnificent views.
Don'ts:
Do not panic or make sudden movements during the flight.
Do not attempt any stunts or manoeuvres without proper training.
Avoid carrying heavy or loose items that can interfere with the flight.
Best place for paragliding near Dharamshala: Bir Billing (60 km)
FAQ on
Paragliding in Dharamshala
Is prior experience required for paragliding in Dharamshala?

Paragliding in Dharamshala is open to both beginners and experienced flyers. Trained instructors provide necessary guidance and tandem flights for those without prior experience.
What is the age limit for paragliding in Dharamshala?

The minimum age requirement for paragliding varies among operators, but it is generally around 16 years. However, there is no upper age limit as long as participants are in good health and physically fit.
Are there any weight restrictions for paragliding in Dharamshala?

Weight restrictions may apply, and they can vary based on safety regulations and the specific paragliding operator. Typically, the weight limit ranges from 80 kg to 120 kg.
What is the best time to visit for paragliding?

The best time for paragliding in Dharamshala is from April to June and September to November when the weather conditions are favorable.
Special Tip
Before visiting Dharamshala for paragliding, make sure to check the weather conditions and book your activity in advance. Carry a sense of adventure and enjoy the thrill of flying amidst the breathtaking landscapes of Dharamshala. Don't forget to capture the memorable moments and cherish the experience of
By Mehrosh Shamim
Disclaimer: Please note that the content of this blog/article including links, texts, images, and graphics is only meant for informational purposes. We do not intend to infringe any copyright policy or do not possess any third-party material. If you have issues related to any of our content or images, kindly drop your message at info@connectingtraveller.com