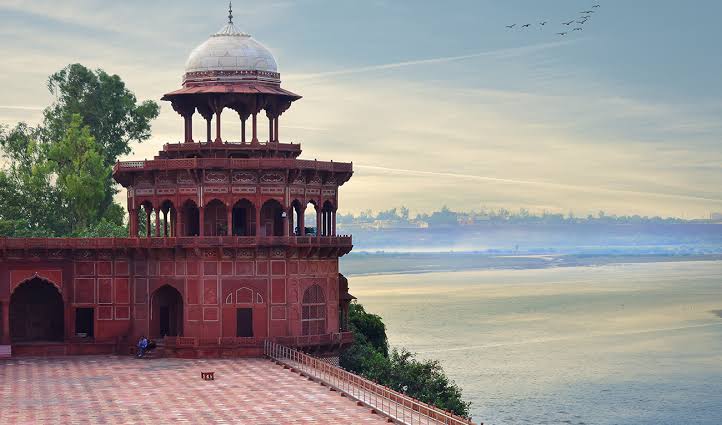 Agra
Taj Museum
Open Time : 10:00 AM - 05:00 PM
Entry : paid
Address : Taj Museum, Dharmapuri, Forest Colony, Tajganj, Agra, Uttar Pradesh, India
More Travel Tips from
Agra
Why to visit
Taj Museum
This well-known tourist destination in Agra, which is frequently referred to as the Taj Mahal Museum, is home to a rich and unusual collection of artefacts and manuscripts that date back to the Mughal era.
It is a two-story structure that is elevated and has a quadrangular exterior projection. It is a large museum with two levels and three galleries in addition to a main hall.
History of Taj Museum;
Since its establishment in 1982, the Taj Museum has provided information on the impressive Taj. The Taj Museum was built much later than the Taj Mahal, which has been around ever since Shah Jahan, the then-ruler of the Mughals, ordered 20,000 labourers to build it in the 17th century.
It includes three galleries:
Older weapons, calligraphy, and vessels are displayed in the first gallery.
This well-known museum in Agra houses portraits, diamonds, and ivory-based crafts in the second gallery.
The Taj Mahal's drawings and blueprints are kept in the final gallery. In addition, the gallery displays records that commemorate important historical occasions.
Interesting facts to know about the Taj Museum:
The museum is home to 121 artefacts, including manuscripts, calligraphy, and miniature paintings from the Mughal era.
Illustrations from the well-known Persian epic Shahnama of Firdausi, a Chahal Majlis manuscript, are also featured in the exhibition.
In addition, there are paintings, marble pillars, weaponry, tools, plans, and drawings of the Taj complex in the collection.
Visitors can view artworks of Shah Jahan and his beloved wife Mumtaz Mahal in the main hall.
Entrance fee and timings at Taj Museum:
All days, excluding Friday, the hours are 10 am to 7 pm. For Indian citizens, the entrance cost is 20 and for foreigners, it is charged 50 INR, respectively.
FAQ on
Taj Museum
How to reach Taj Museum?

Within the Taj Mahal complex is where the museum is located. Tongas, electric buses, and tempos can be used to go to Taj Mahal and navigate the city. State buses and auto rickshaws are also available. Vehicles must be parked in the parking lots nearby the mausoleum in order to minimise the impact of pollution on the monument. Vehicles are not permitted close to the Taj Mahal. Visitors can board non-electric tourist buses from the parking area.
What are the nearby attractions from Taj Museum?

Nearby attractions includes: Jama Masjid, Agra Fort and Sheesh Mahal
What hotels are near Taj Museum?

Hotels near Taj Museum: (0.88 km) The Oberoi Amarvilas , (0.74 km) Zigzag Homestay and (0.44 km) Hotel Sidhartha
What restaurants are near Taj Museum?What restaurants are near Taj Museum?

Restaurants near Taj Museum: (0.44 km) Joney's Place (0.42 km) Yes Restaurant (0.45 km) Treat Restaurant
Special Tip
This place is closed on Fridays. Also, don't forget to visit this fascinating Taj Museum if you're planning a trip to the romantic city of Taj or the legendary Taj Mahal
By Shobhna J.
Disclaimer: Please note that the content of this blog/article including links, texts, images, and graphics is only meant for informational purposes. We do not intend to infringe any copyright policy or do not possess any third-party material. If you have issues related to any of our content or images, kindly drop your message at info@connectingtraveller.com