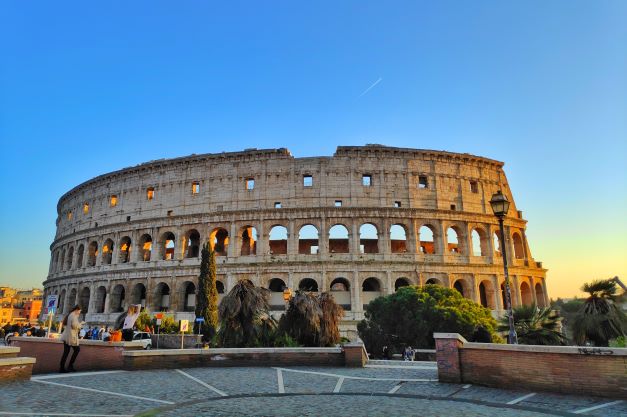 Rome
Colosseum
Open Time : 9:30am–6:30pm
Entry : paid
Address : Colosseum, Piazza del Colosseo, Rome, Metropolitan City of Rome, Italy
More Travel Tips from
Rome
Why to visit
Colosseum
The Colosseum is Rome's most famous landmark. It is a massive structure with about 2,000 years of history that will transport you back in time to explore the Roman Empire's way of life.
The construction of the Colosseum began in the year 72 during Emperor Vespasian's reign and was completed in the year 80 under Emperor Titus' reign. The Colosseum was the largest Roman amphitheatre when it was finished, measuring 188 metres in length, 156 metres in width, and 57 metres in height.
Despite its age, it is the largest ancient amphitheatre ever erected and remains the world's largest standing amphitheatre today. Construction began under the reign of Emperor Vespasian and was completed by his successor and heir, Titus, in the year 80 AD. During the reign of Domitian, more changes were enacted. The Flavian dynasty is called for the three emperors who financed the project, and the amphitheatre is known as the Flavian Amphitheatre.Travertine limestone, tuff (volcanic rock), and brick-faced concrete were used to construct the Colosseum. The Colosseum was used for gladiatorial competitions and public spectacles such as animal hunts, executions, re-enactments of famous wars, and dramas based on Roman mythology, as well as occasional simulated maritime warfare. In the early mediaeval century, the structure was no longer used for entertainment. It was afterwards used for homes, workshops, religious order quarters, a castle, a quarry, and a Christian shrine, among other things.
Special Tip
To avoid long lineups that could take several hours, it's best to arrive early in the morning or get an entrance ticket at the Palatine Hill.
By TANISHA JAISWAL
Disclaimer: Please note that the content of this blog/article including links, texts, images, and graphics is only meant for informational purposes. We do not intend to infringe any copyright policy or do not possess any third-party material. If you have issues related to any of our content or images, kindly drop your message at info@connectingtraveller.com