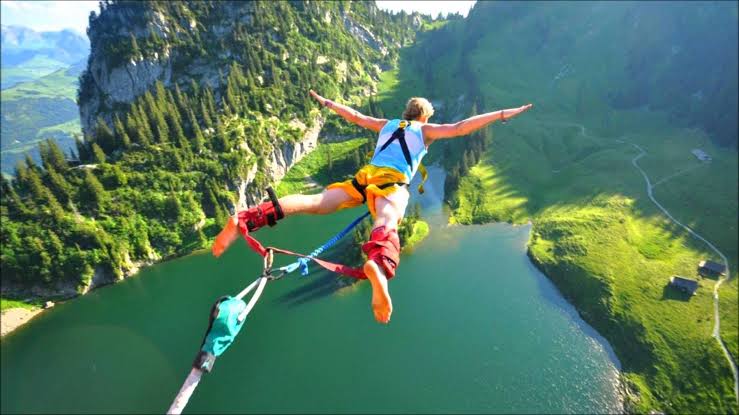 Rishikesh
Bungee Jumping in Rishikesh
Open Time : 9:30 AM, 11:00 AM, 1:00 PM and 2:30 PM
Entry : paid
Address : Jumpin Heights, Raj Resort, Near SBI bank, Badrinath Road, Tapovan, Rishikesh.
More Travel Tips from
Rishikesh
Why to visit
Bungee Jumping in Rishikesh
Bungee jumping is an exciting sport that involves jumping from an elevated location. You are appropriately fastened to a surface or other object supporting heavyweight when jumping via a lead. You will be absolutely safe whether you jump from a plane or a cliff.
Bungee Jumping Spot at Rishikesh:
The best bungee jumping location in Rishikesh is Jumpin Heights, which is in Mohanchatti. With a height of 83 metres, Rishikesh's Jumpin Heights offers the highest bungee leaping in all of India. Except for Tuesdays, Jumpin' Heights is open every day. These locations are regarded as some of the best in India for bungee jumping.
Know Before You Go:
Bungee jumping is performed between January and 15 July, as well as from 20 September through January.
There are only 50–60 bungee jump spots available at Jumpin' Heights.
Age: 12 years to 45 years
Weight: 40 kgs to 110 kgs
Coach Timings: 9:00 am, 11:00 am, and 1:00 pm
FAQ on
Bungee Jumping in Rishikesh
What is the approximate cost of Bungee Jumping in Rishikesh?

The approximate cost of Bungee Jumping in Rishikesh is starting from INR 3500/-.
Is Rishikesh's bungee jumping a secure activity?

The level of safety you receive when bungee jumping in Rishikesh is equivalent to almost 100,000 jumps without a single failure.
When is the greatest time of year to go bungee jumping?

While bungee jumping can be enjoyed throughout the year, it's important to be aware that some weather conditions, such as fog or snow, can significantly alter your experience. Hence, given that the weather is typically warm and dry, summer might be considered the ideal season for bungee jumping.
Does bungee jumping have a weight restriction?

The maximum weight for bungee jumping is 265 lbs.
How fast one move when bungee jumping?

The average speed of a person falling from a height of 83 metres is between 140 and 160 kmph.
Special Tip
Be sure to dress comfortably for your bungee jumping adventure. The activity is not advised for those with the following medical issues, though, because to its intense nature: neurological disorders, epilepsy, heart conditions, high blood pressure, injuries to the back or neck, recent fractures, asthenia, osteoporosis, and pregnancy. The age limit to participate in this activity is twelve. The person must weigh between 35 and 120 kg.
By Mehrosh Shamim
Disclaimer: Please note that the content of this blog/article including links, texts, images, and graphics is only meant for informational purposes. We do not intend to infringe any copyright policy or do not possess any third-party material. If you have issues related to any of our content or images, kindly drop your message at info@connectingtraveller.com