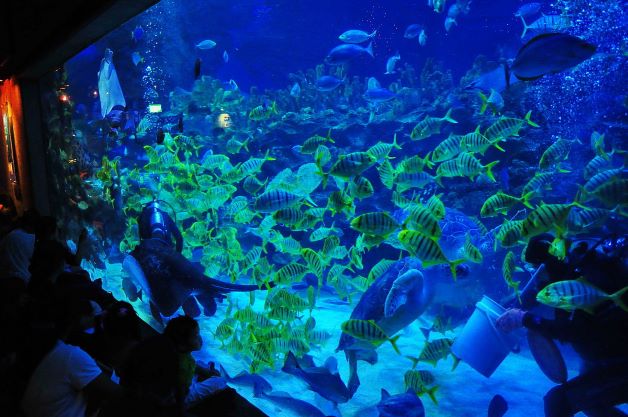 Malaysia
Aquaria KLCC
Open Time : 10:00am–7:00pm
Entry : paid
Address : Aquaria KLCC, Jalan Pinang, Kuala Lumpur City Centre, Kuala Lumpur, Federal Territory of Kuala Lumpur, Malaysia
More Travel Tips from
Malaysia
Why to visit
Aquaria KLCC
A gigantic tank (containing an authentic-looking shipwreck) – a 90m walk-through tunnel with a moving travelator in its centre – is one of the features of Aquaria KLCC. You'll be surrounded by sand tiger sharks, massive stingrays, and more on the inside. You can take a break from watching Nemo and his friends by visiting The Stream, which is home to the huge water rat and the adorable Asian small-clawed otter. In the meanwhile, the Jewels of the Jungle part has a variety of reptiles, amphibians, and insects, including the green snake, coatimundi, tarantula, and many others; also, don't miss the exhibit exhibiting the life cycle of butterflies.
In Level 2, you'll travel through the Amazon Flooded Forest, home to the colossal araipaima, red tail catfish, and other creatures; then, head up to The Coast to witness archer fish, horseshoe crabs, and other creatures. Later, at the Oceanarium, develop a great appreciation for deep water animals like the octopus and huge blotched fantail ray. Finally, the Weird & Wonderful area contains chambered nauticus, sea jelly, and other unusual creatures, while the Coral Discovery Section contains the expected coral, seahorses, and other sea creatures. In addition, catch the fish feeding sessions in the 2.5 million-litre aquarium on Mondays, Wednesdays, and Saturdays.
The best parts of Aquaria KLCC may be when you're lost — either literally, considering the enormity of the place, or figuratively, as you strive to learn everything you can about the often-overlooked diverse deep water world. Though the aquarium focuses on simple pleasures, thrill seekers will enjoy the Diving with Sharks programme, which allows visitors to get up close and personal with tiger sharks, stingrays, and other sharks.
Special Tip
The entry fee approximately starts from 64 MYR for an adult and 53 MYR for a child
By Sparsh Kapoor
Disclaimer: Please note that the content of this blog/article including links, texts, images, and graphics is only meant for informational purposes. We do not intend to infringe any copyright policy or do not possess any third-party material. If you have issues related to any of our content or images, kindly drop your message at info@connectingtraveller.com