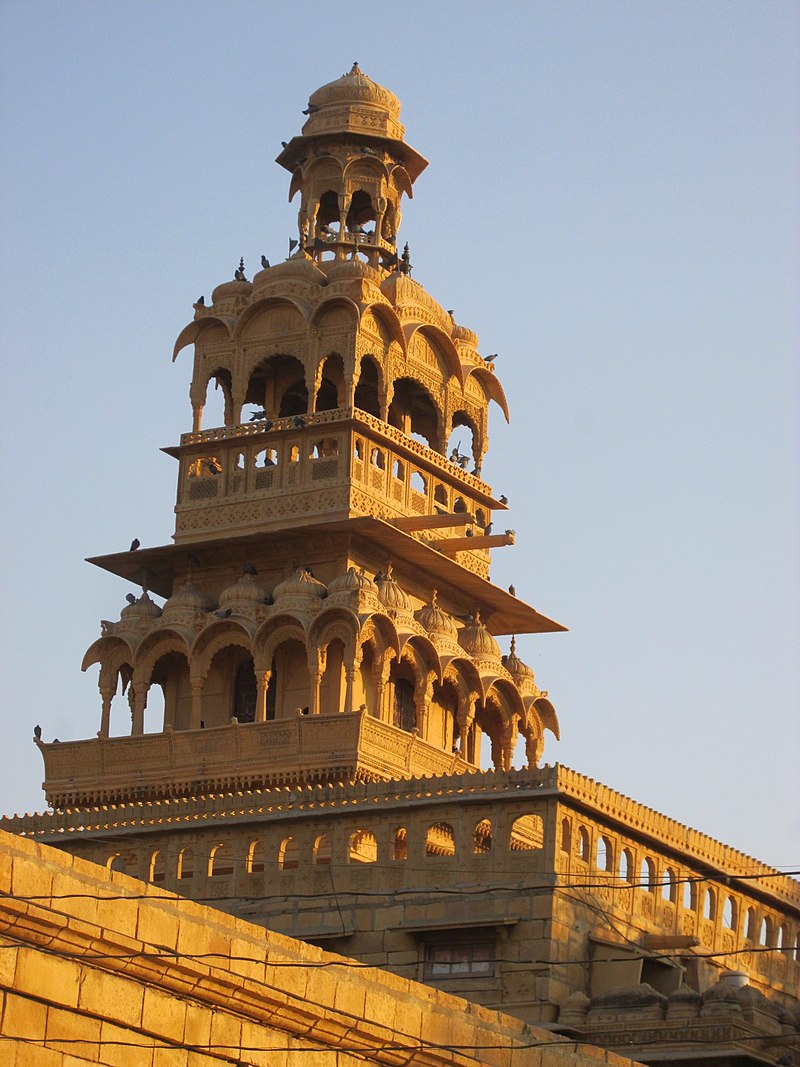 Jaisalmer
Tazia Tower
Open Time : 8:00 A.M - 6:00 P.M.
Entry : paid
Address : Tazia Tower, Khejer Para, Manak Chowk, Amar Sagar Pol, Jaisalmer, Rajasthan, India
More Travel Tips from
Jaisalmer
Why to visit
Tazia Tower
A beautiful piece of art can be seen in the Mandir Palace complex in the lovely Tazia tower. Although it was formerly only a small portion of the broader area, it has now grown into a kind of tourist destination in its own right.
Highlights of the Tazia Tower:
The building of Tazia Tower is an illustration of how Islamic and Rajasthani traditions may coexist. It was built in the year AD 1886.
From here, the royal guards used to keep a watch on the neighborhood around the fort and the adjacent village.
The tower has five stories, and each one features distinctive serpentine sculptures.
Its elaborate carvings provide insight into the skilled craftsmanship of the past.
Tazia Tower is currently a popular attraction where people go to get their pictures taken. It is a popular location for pre-wedding portraits.
Why was Tazia Tower built?
It was constructed by the Muslim architects and their workers as a gift for the ruler of Jaisalmer. This tower can be seen from a distance and is situated close to the palace roof.
Entrance Fees: INR 10/- (Indians); INR 50/- to 100/- (Camera)
Best Time To Visit: September to March
Ideal Duration: 1 to 2 hours
Nearby Airport: Jaisalmer Airport (14.5 km)
Nearby Railway Station: Jaisalmer Railway Station (2.8 km)
Nearby Attractions: Jaisalmer Fort (2 km), Bada Bagh (14.4 km), Mandir Palace (900 m)
FAQ on
Tazia Tower
How to reach the Tazia Tower?

The closest train station is Jaisalmer Railway Station if you're taking a train. Visitors can use a local cab to get here; it is about 2.8 kilometres from the tower. The closest airport, Jaisalmer Airport, is 14.5 kilometres away from the Tazia tower if you're flying. At the airport, taxi services are regularly accessible and can be reached in 30 to 45 minutes.
When is the ideal time to visit Tazia Tower?

The months of October to March are the finest for taking in the Tazia tower. Just after the rainy season, the city's environment is ideal for exploring the Tazia Tower.
What are the places of attractions near Tazi Tower?

Jaisalmer Fort (2 km), Bada Bagh (14.4 km), and Mandir Palace (900 m) are the places of attractions near Tazi Tower.
Can Tazia Tower be visited during night?

No, Tazia tower is only open to tourists from 8:00 am to 6:00 pm. The authorities does not let the visitors visit after the sun sets.
Special Tip
It can take more than an hour to explore the enormous tower, and it can become very warm during the summer, so make sure you have plenty of time and water on hand. Keep your kids close by and away from balconies if you're travelling with little ones.
By Abhilasha Prasad