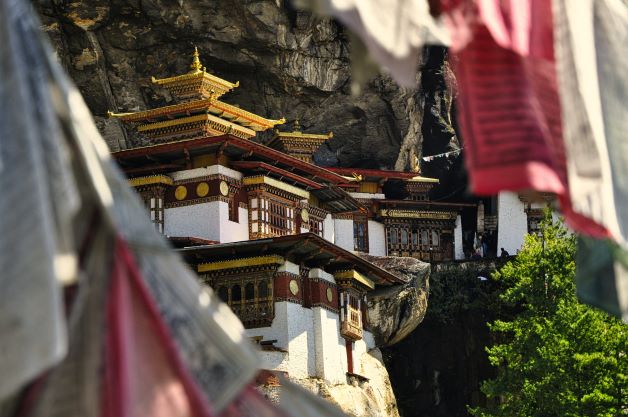 Bhutan
Taktsang Palphug Monastery
Open Time : 8:00 am to 1:00 pm & 2:00 pm to 6:00 pm
Entry : free
Address : Taktsang Palphug, Taktsang Trail, Paro, Bhutan
Website : http://www.parotaktsang.org/
More Travel Tips from
Bhutan
Why to visit
Taktsang Palphug Monastery
This is the monastery whose photos have taken over Instagram. You've probably seen photographs of it on Instagram because it's one of Bhutan's most popular tourist destinations. Taktsang Palphung Monastery, often known as 'Tiger's Nest,' is one of Bhutan's most famous tourist destinations, attracting photographers, explorers, and pilgrims alike. Everything about the monastery is unique, from its location to its architecture. This monastery was built in 1692 on the site of a cave where Guru Rinpoche is said to have meditated in the 7th century A.D. to subdue the demons that resided there. He pondered for 3 years, 3 months, 3 days, and 3 hours atop the back of a tigress (believed to be his wife).
The temple complex was built between 1692 and 1693. This monastery, located 3120 metres above sea level in Paro Valley, is a cultural symbol of Bhutan. This monastery is unique in that it is situated on top of a mountain 1200 metres above the Paro Valley, surrounded by natural beauty. This white building, capped with a golden roof, stands out against a backdrop of blue sky and lush green hills. This monastery's centuries-old mythology adds to its mystique. Only arduous mountain paths lead to Tiger's Nest, which is located in a remote place.
Special Tip
The Tsechu, a popular celebration in honour of Padmasambhava, takes place in the Paro valley sometime in March or April, and is the finest time to visit. Also, cameras, phones, and other electronic devices are not permitted on the grounds of Paro Taktsang monastery.
By Atharva Yeshwardhan
Disclaimer: Please note that the content of this blog/article including links, texts, images, and graphics is only meant for informational purposes. We do not intend to infringe any copyright policy or do not possess any third-party material. If you have issues related to any of our content or images, kindly drop your message at info@connectingtraveller.com