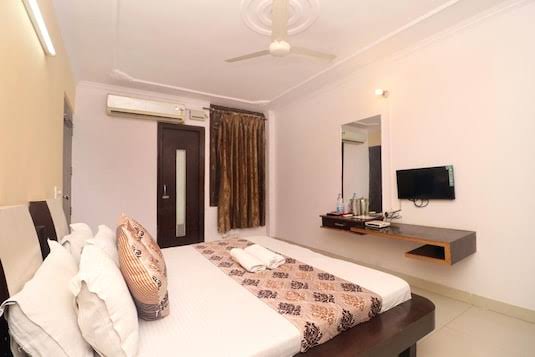 Amritsar
Gurjeet House
Open Time : Open 24 hours
Entry : paid
Address : GURJEET HOUSE, Bhama Badi, Punjab, India
More Travel Tips from
Amritsar
Why to visit
Gurjeet House
The property, which is close to the langar hall, has a variety of accommodations, including premium non-ac rooms and regular non-ac rooms. Air conditioning, a fireplace, housekeeping, and room service are all available in the soundproof rooms. The hotel offers a complimentary breakfast to its guests. The cost of the lodging is approximately INR 500.
𝗥𝗼𝗼𝗺 𝗳𝗲𝗮𝘁𝘂𝗿𝗲𝘀:
• Soundproof rooms
• Air conditioning
• Fireplace
• Housekeeping
• Room service
• Iron
• Kitchenette
• Complimentary toiletries
• Wake-up service / alarm clock
𝗕𝗮𝘀𝗶𝗰 𝗙𝗮𝗰𝗶𝗹𝗶𝘁𝗶𝗲𝘀:-
• Free High Speed Internet (WiFi)
• Free breakfast
• Airport transportation
• Business Centre with Internet Access
• Couples massage
• 24-hour security
• Baggage storage
• 24-hour check-in
𝗞𝗲𝘆 𝗟𝗮𝗻𝗱𝗺𝗮𝗿𝗸𝘀:-
•Raja Sansi Intl. Airport (ATQ) - 14 min drive
• Allam Iqbal Intl. Airport (LHE) - 54 min drive
FAQ on
Gurjeet House
What restaurants are around Hotel Gurjeet?

GurdasRam Jalebi Wale.. Katra Ahuwalia.. Bhai Kulwant Singh Kulchian Wale and Brother's Amritsari Dhaba are also nearby restaurants.
What facilities are provided in the rooms at Hotel Gurjeet?

A kitchenette.. air conditioning.. and a fireplace are among the room's top features.
What are the food and beverage options at Hotel Gurjeet?

During their stay.. guests can take use of a complimentary breakfast and an on-site restaurant.
Is there a cleaning service available at Hotel Gurjeet?

Yes..guests can use the dry cleaning and washing services.
Special Tip
The Homestay is close to some of Amritsar's most renowned tourist attractions and other points of interest. Golden Temple (530 metres), Durgiana Temple (1.8 kilometres), Gobindgarh Fort (2.4 kilometres), Param Pujya Mata Lal Devi Mandir (2.8 kilometres), and Maharaja Ranjit Singh Museum are some of the tourist attractions (3.0 kms).
By Sparsh Kapoor