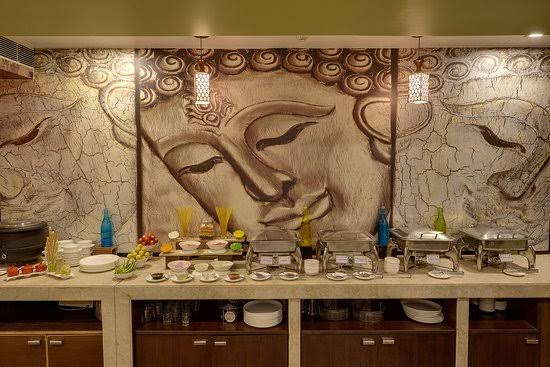 Ajmer
TRM Restaurant
Open Time : 7:00 AM - 11:30 PM
Entry : free
Address : The Royal Melange Ajmer Hotel, Power House, Jaipur Road, Opposite City, Sundar Vilas, Ajmer, Rajasthan, India
Website : https://www.theroyalmelange.com/
More Travel Tips from
Ajmer
Why to visit
TRM Restaurant
When you enter TRM Restaurant, you can savour one delicacy after another at the buffet. Off-white and light browns dominate the colour palette in this restaurant's attractive, expansive décor.
In addition, the dark lighting creates a relaxing atmosphere, allowing you to focus only on the delectable meal. On the menu are a wide range of recipes, hand-picked from the most popular Indian and Chinese specialties.
The soups and salads on display will thrill health-conscious diners. Consider trying the hot treats, which are a specialty here. Bring a circle of friends to have a good time. Everybody will find something they enjoy among the variety of delights.
How to reach?
The location is approximately.9 kilometres from Ajmer Junction. To get to the venue, you can take public or private transportation. There is parking accessible for private automobiles.
FAQ on
TRM Restaurant
Is TRM Restaurant open for takeout?

TRM Restaurant does in fact provide takeout.
What kind of cuisine is served at the restaurant?

The restaurant serves North Indian and Chinese cuisine.
Special Tip
The restaurant offers delicious meals, but I highly suggest the Cheese Burger, which is luscious, meaty, and greasy gratifying and comes with a good amount of parmesan cheese, as well as the Mint Julep, which pairs well with the burger and refreshes your mind and day.
By Inaaya Sharma