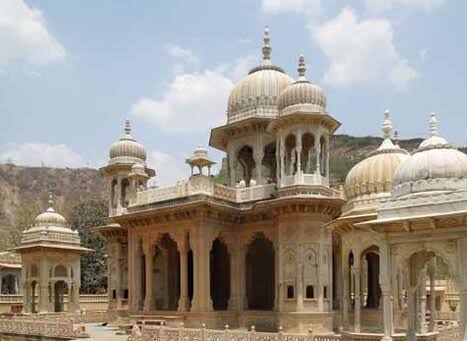 Bikaner
Devi Kund Sagar
Open Time : 06:30 am to 06:30 pm
Entry : paid
Address : Devi Kund Sagar, Sharah Kajani, Rajasthan
More Travel Tips from
Bikaner
Why to visit
Devi Kund Sagar
A famous example of Rajputana architecture. Devi Kund is a royal cremation with ornate cenotaphs (known as chhattris), each with its own special feature. The cenotaphs, which are embellished with paintings and portraits, are architectural masterpieces.
Devi Kund Sagar cenotaphs are built with pure white marble and red sandstone where an inscription of the remains is engraved on top of the cenotaph. The inscriptions provide the details about the ruler or the royal family member ad how they passed away. The Devi Kund Sagar crematorium was built according to the Rajputana architecture style where a slight hint of Islamic culture could be seen.
Maharaja Anup Singh was considered as one of the great rulers of the Bikaji regime (1669-1698 AD); therefore the architecture of his cenotaph is different from others and is considered as a marvellous historical monument. His cenotaph consists of 16 pillars surround the white marble. The tales of Lord Krishna are carved onto these pillars along with other animals. A similar cenotaph was also built for another great ruler, Maharaja Ratan Singh. Even though the remains of the royal family member were cremated and the ashes are not present in the cenotaphs, these cenotaphs were built to remember all the royal family members.
These cenotaphs tell stories of valour and gallantry and were built in honour of the Bikaji Dynasty's departed members. Early rulers' chhattris are made of red sandstone, whereas later monarchs' are made of white marble. Maharaja Suraj Singh's Chhattri, which is composed of marble and contains exclusive Rajputana style murals on its ceiling, is the most beautiful of them all.
The distinguishing aspect, or specifically the architectural adjustments done with respect to the royal ruler's gender, is something worth noting about Devi Kund Chhattris. Adult men's chhattris are white constructions with an upright stela (stone slab) bearing their name inscribed on it, but royal wives' chhattris feature a horizontal plaque bearing footprints. There are even a couple of marble cenotaphs devoted to royal children who died young.
Special Tip
The entry fee is charged INR 5 per indians and INR 10 per foreigners approximately. Also, if you carry camera for the pictures, it costs approx INR 50.
By Sparsh Kapoor