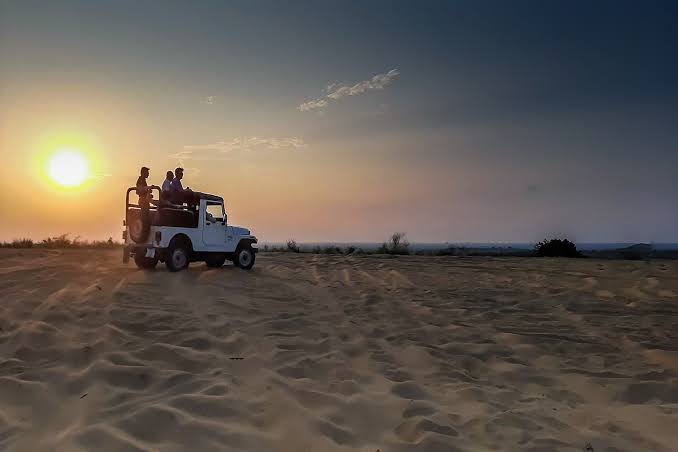 Bikaner
Jeep Safari in Bikaner
Open Time : 9:00 AM to 6:00 PM
Entry : paid
Address : Bikaner Camel Safari, Gopeshwar Basti, Bikaner, Rajasthan, IN
More Travel Tips from
Bikaner
Why to visit
Jeep Safari in Bikaner
Imagine a desert with no crowds and a quiet barren beauty devoid of motor traffic and urban sounds. The nights are cold and pleasant, and the skies are completely clear due to the lack of clouds. Learn about the Thar Desert's culture, including traditional mythology, lifestyles, and wildlife. In distant desert settings, you can get a taste of actual rural life. The safari trips allow guests to witness local wildlife such as deer, antelope, rabbits, jackals, wildcats, desert foxes, blue bulls, and bird species like as partridge, sand grouse, famed dwelling cranes, desert vultures, and others.
It is one of the most popular reasons to visit Bikaner, as it is an exciting way to cruise through the deserts and see the beauty of Bikaner, while you may go around Jaisalmer's fauna, dunes, and deserts and gaze at the views of a community or town. Camping in the middle of the desert with your loved ones and participating in activities such as bonfires, barbeques, stargazing, cultural performances, and more will undoubtedly be a one-of-a-kind and once-in-a-lifetime experience.
Special Tip
The jeep safari charges you INR 1800 per person approximately. The best time to visit the dunes is during the October to March months when the weather is quite chilly and less hot. It is advisable to avoid consuming heavy food or alcoholic beverages before and after the activity.
By TANISHA JAISWAL