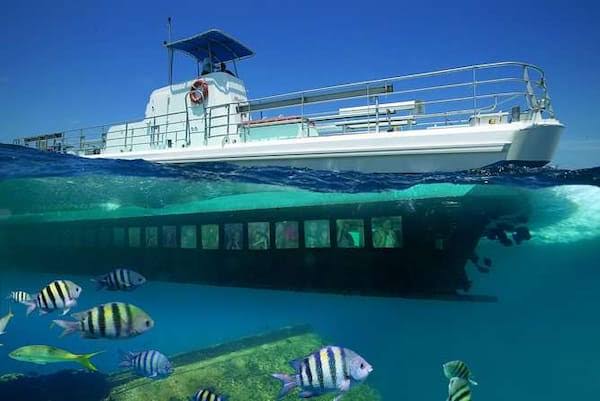 Andaman
Coral Safari Semi Submarine Ride
Open Time : 7:00 AM to 3:00 PM
Entry : paid
Address : Andaman, Shadipur, Port Blair, Andaman and Nicobar Islands, India
More Travel Tips from
Andaman
Why to visit
Coral Safari Semi Submarine Ride
Safari to the Coral Reef is one of the greatest ways to see the deep waters without getting wet is to take a semi-submarine. The crystal blue seas surrounding North Bay island provide a fantastic opportunity to see the extensive coral population as well as hordes of fish that live there.
One of the most appealing aspects of Semi Submarine is that it has no restrictions on the depth of water it can explore. Semi-submarines, unlike scuba diving and glass bottom boats, can explore considerably deeper seas, where you can see rare creatures such as huge tunas and manta rays.
Coral Safari is a semi-submarine that will transport you deep under the ocean in a luxurious 100-seater cabin that is fully air-conditioned. It will give you a spine-tingling experience to observe the incredible undersea environment through the enormous glass windows slanted at 45 degrees.
The vessel can be entered and exited by people of all ages with ease. It's a once-in-a-lifetime opportunity to witness the most fascinating, gorgeous deep sea environment, which will fascinate you and transport you to another universe.
Whether it's for pure curiosity, investigation, information, or relaxation, Coral Safari may take you on an incredible visual journey that will transport you!
When you arrive on North Bay Island, your journey begins. You board the semi-submarine to explore the underwater reef once you arrive in North Bay. The journey lasts one hour and then you will dropped to the North Bay once the journey is completed.
FAQ on
Coral Safari Semi Submarine Ride
What is the time duration taken for the Coral Safari?,How to reach?,What is the best time to go on a semi-submarine ride?,How do I reserve a space for my Andaman Islands semi-submarine ride?,How much does a ride in a semi-submarine in the Andaman Islands cost?,In the Andamans where should one go for a semi-submarine ride?

This once-in-a-lifetime Coral Safari lasts over two hours and allows you to see the life that exists beneath the sea's azure waves.,The Coral Safari adventure starts at the Rajiv Gandhi Water Sports Complex where visitors board the submarine and embark on an exciting excursion.,The Andaman Islands are accessible all year. The greatest time to go on a semi-submarine ride in the island is during the winter season which runs from November to May.,Booking your submarine ride in the Andaman Islands well in advance is always a good idea. Getting a slot during high season is really difficult.,The journey costs around Rs. 1850 per person for adults and Rs. 1350 for youngsters under the age of three.,The semi-submarine journey begins in Port Blair and ends on North Bay Island.
Special Tip
This ride is not recommended for persons with hypertension, breathing problems, or those who are uncomfortable in confined spaces. Anyone experiencing any pain should immediately alert the submarine's safety team.
By Abhilasha Prasad